Resin Set
Our Resin-Set DRS® brushware boasts a revolutionary improvement in brush filament retention known as the 'Dual Retention System – DRS'. By filling the recesses of the brush with an FDA approved epoxy resin, which is then infused with the Biomaster antimicrobial additive, the risk of filament loss is greatly reduced.
All our brush filaments are attached to the brush block using stainless steel staples (1). Our resin set range also has an additional recess in which an antimicrobial epoxy resin is poured (2). We then ensure that the resin fills every void through an extensive process (3), eliminating areas for dirt and moisture to accumulate.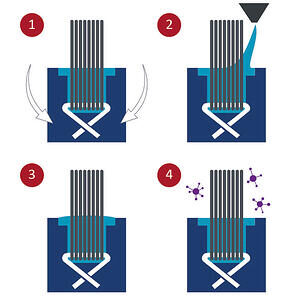 All the plastics and resins in our hygiene range, as well as the resin and antimicrobial additives we use are approved for food contact, and many of our standard brushes are available with the Resin Set option. Brushes are available in several colours to help with colour coded segregation, HACCP and 5S.
Showing 1–12 of 28 results